So you want to read more romances by authors of color!
So, you loved our episodes on
Adam and Eva
and
Night Song
, right? (Say yes!) Well, of course you'd probably enjoy reading more Sandra Kitt and Beverly Jenkins books. But there are tons of great authors of color writing romances you'd love and we want you to find them! I'm linking to first books in series because that's where people generally want to start, although with some of these people a later book is the one that's really popular right now (can I even tell you how happy I am that my actual two favorite characters from Alyssa Cole's
A Princess in Theory
got their own lesbian romance book?!?!)
This is just the first installment in a series we're planning on doing. Truthfully, I only realized doing this podcast that I hadn't
ever
read a romance where both leads were people of color, and I'd honestly never noticed it because I was conditioned to think of my whiteness as a default and the experiences of people of color as optional. Break the paradigm and decolonize your reading list, y'all!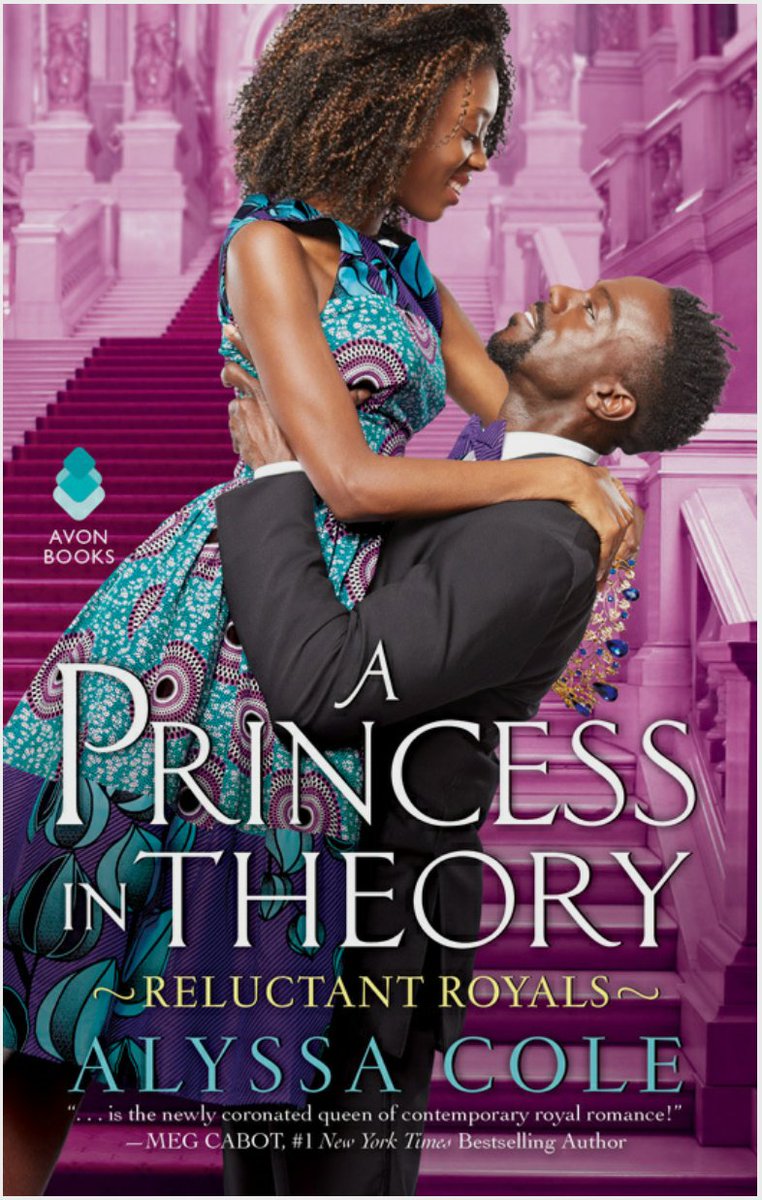 Alyssa Cole
"is a science editor, pop culture nerd, and romance junkie who splits her time between fast-paced NYC and island-paced life in the Caribbean." She's written a lot of books but she's the new hotness these days for her Reluctant Royals series which starts with
A Princess in Theory
.
"Between grad school and multiple jobs, Naledi Smith doesn't have time for fairy tales…or patience for the constant e-mails claiming she's betrothed to an African prince. Sure. Right. Delete! As a former foster kid, she's learned that the only things she can depend on are herself and the scientific method, and a silly e-mail won't convince her otherwise.
Prince Thabiso is the sole heir to the throne of Thesolo, shouldering the hopes of his parents and his people. At the top of their list? His marriage. Ever dutiful, he tracks down his missing betrothed. When Naledi mistakes the prince for a pauper, Thabiso can't resist the chance to experience life—and love—without the burden of his crown.
The chemistry between them is instant and irresistible, and flirty friendship quickly evolves into passionate nights. But when the truth is revealed, can a princess in theory become a princess ever after?"
This is one I've actually read and enjoyed quite a bit, even though it has my least favorite romance trope in it (the Idiot Plot, which requires everybody in it to never once sit down and explain themselves honestly.) The fingerbanging, reader, is hot.
An Extraordinary Union
is the first book in the Loyal League series.
"As the Civil War rages between the states, a courageous pair of spies plunge fearlessly into a maelstrom of ignorance, deceit, and danger, combining their unique skills to alter the course of history and break the chains of the past . . .
Elle Burns is a former slave with a passion for justice and an eidetic memory. Trading in her life of freedom in Massachusetts, she returns to the indignity of slavery in the South—to spy for the Union Army.
Malcolm McCall is a detective for Pinkerton's Secret Service. Subterfuge is his calling, but he's facing his deadliest mission yet—risking his life to infiltrate a Rebel enclave in Virginia.
Two undercover agents who share a common cause—and an undeniable attraction—Malcolm and Elle join forces when they discover a plot that could turn the tide of the war in the Confederacy's favor. Caught in a tightening web of wartime intrigue, and fighting a fiery and forbidden love, Malcolm and Elle must make their boldest move to preserve the Union at any cost—even if it means losing each other . . ."
Alisha Rai is an Indian-American author; I've read several of her books and
love
them. They're smart and hot as hell. I can definitely whole, uh, heartedly recommend the Forbidden Hearts books, and
Hate to Want You
is the first book.
"One night. No one will know.
That was the deal. Every year, Livvy Kane and Nicholas Chandler would share one perfect night of illicit pleasure. The forbidden hours let them forget the tragedy that haunted their pasts—and the last names that made them enemies.
Until the night she didn't show up.
Now Nicholas has an empire to run. He doesn't have time for distractions and Livvy's sudden reappearance in town is a major distraction. She's the one woman he shouldn't want . . . so why can't he forget how right she feels in his bed?
Livvy didn't come home for Nicholas, but fate seems determined to remind her of his presence—and their past. Although the passion between them might have once run hot and deep, not even love can overcome the scandal that divided their families.
Being together might be against all the rules . . . but being apart is impossible."
These are great because I seriously stuck it out through the third book (even though I always get that thing where I get attached to the people in the first book and just can't love the other ones as much) to find out what actually happened between the two families thirty years ago. If you read all three you get a wonderfully diverse cast, a great family business intrigue story, and lots of people who actually feel like real people. I honestly can't recommend her highly enough.
Sonali Dev
's "first literary work was a play about mistaken identities performed at her neighborhood Diwali extravaganza in Mumbai. She was eight years old. Despite this early success, Sonali spent the next few decades getting degrees in architecture and written communication, migrating across the globe, and starting a family while writing for magazines and websites. With the advent of her first gray hair her mad love for telling stories returned full force, and she now combines it with her insights into Indian culture to conjure up stories that make a mad tangle with her life as supermom, domestic goddess, and world traveler.
Sonali lives in the Chicago suburbs with her very patient and often amused husband and two teens who demand both patience and humor, and the world's most perfect dog."
A Bollywood Affair
is the first book in her Bollywood series.
"Mili Rathod hasn't seen her husband in twenty years—not since she was promised to him at the age of four. Yet marriage has allowed Mili a freedom rarely given to girls in her village. Her grandmother has even allowed her to leave India and study in America for eight months, all to make her the perfect modern wife. Which is exactly what Mili longs to be—if her husband would just come and claim her.

Bollywood's favorite director, Samir Rathod, has come to Michigan to secure a divorce for his older brother. Persuading a naïve village girl to sign the papers should be easy for someone with Samir's tabloid-famous charm. But Mili is neither a fool nor a gold-digger. Open-hearted yet complex, she's trying to reconcile her independence with cherished traditions. And before he can stop himself, Samir is immersed in Mili's life—cooking her dal and rotis, escorting her to her roommate's elaborate Indian wedding, and wondering where his loyalties and happiness lie.

Heartfelt, witty, and thoroughly engaging, Sonali Dev's debut is both a vivid exploration of modern India and a deeply honest story of love, in all its diversity."
I haven't read this yet, but people love it. So I just put it on hold for myself.
Rebekah Weatherspoon "was raised in Southern New Hampshire and now lives in Southern California with an individual who is much more tech savvy than she ever will be.
Her interests include Wonder Woman collectibles, cookies, James Taylor, quality hip-hop, football, American muscle cars, large breed dogs, and the ocean. When she's not working, writing, reading, or sleeping, she is watching Ken Burns documentaries and cartoons or taking dance classes. If given the chance, she will cheat at UNO." She's also the founder of WOC in Romance, a directory of romance books by and featuring women of color.
Better Off Red is the first in her Vampire Sorority Sisters series.
"Every sorority has its secrets...
And college freshman Ginger Carmichael couldn't care less. She has more important things on her mind, like maintaining her perfect GPA. No matter how much she can't stand the idea of the cliques and the matching colors, there's something about the girls of Alpha Beta Omega—their beauty, confidence, and unapologetic sexuality—that draws Ginger in. But once initiation begins, Ginger finds that her pledge is more than a bond of sisterhood, it's a lifelong pact to serve six bloodthirsty demons with a lot more than nutritional needs.
Despite her fears, Ginger falls hard for the immortal queen of this nest, and as the semester draws to a close, she sees that protecting her family from the secret of her forbidden love is much harder than studying for finals."
Sherry Thomas writes in a variety of genres including romance. "Because actual world domination is too much trouble, USA Today-bestselling author Sherry Thomas decided that her goal is life is to write every kind of book she enjoys reading. Thus far she has published romance, fantasy, mystery, and a wuxia-inspired duology. Her books regularly receive starred reviews and best-of-the-year honors from trade publications, including such outlets as the New York Times and National Public Radio. She is also a two-time winner of Romance Writers of America's prestigious RITA® Award.
And by the way, English is her second language."
Felix Rivendale, the Marquess of Wrenworth, is The Ideal Gentleman, a man all men want to be and all women want to possess. Felix himself almost believes this golden image. But underneath is a damaged soul soothed only by public adulation.
Louisa Cantwell needs to marry well to support her sisters. She does not, however, want Lord Wrenworth—though he seems inexplicably interested in her. She mistrusts his outward perfection and the praise he garners everywhere he goes. But when he is the only man to propose at the end of the London season, she reluctantly accepts.
Louisa does not understand her husband's mysterious purposes, but she cannot deny the pleasure her body takes in his touch. Nor can she deny the pull this magnetic man exerts upon her. But does she dare to fall in love with a man so full of dark secrets, anyone of which could devastate her, if she were to get any closer?
Tracey Livesay "writes smart, sexy and emotional contemporary romances where strong, successful heroines find love with powerful, passionate heroes. She's past president of Virginia Romance Writers, volunteers on several national committees for Romance Writers of America and is a member of their Published Author's Network. She's been featured in Entertainment Weekly, The Washington Post and on CBS This Morning. A former criminal defense attorney, she finds crafting believable happily ever afters slightly more challenging than protecting our constitutional rights, but she's never regretted following her heart instead of her law degree. Tracey lives in Virginia with her husband-who she met on the very first day of law school--and their three children. When not answering the call of wife, mother or author, she runs marathons and daydreams about designer purses."
Love On My Mind is the first book of her Shades of Love series.
Successful PR executive Chelsea Grant is one assignment away from making partner at her firm and nothing will stand in her way. Her big break? Turn a reclusive computer genius into a media darling in time for his new product launch. He may have been dubbed the "sexiest geek alive" but he has no patience for the press—and it shows. Piece of cake, right? Only problem is… his company doesn't want him to know they hired her.
After a disastrous product launch two years ago, tech CEO Adam Bennett knows the success of his new device depends on the media's support. When a twist of fate brings the beautiful PR specialist to his door, Adam hires Chelsea to help turn his image around. Their attraction is undeniable and the more time they spend together, the harder it becomes to keep things professional.
But when Adam discovers Chelsea's deception, will she risk everything for her career or is love the real thing on her mind?